dHEDGE Aurora Release
The Aurora Release: dHEDGE Integrates Uniswap on Polygon and Optimism, Banxa fiat on-ramp direct to L2, new assets and many UI improvements
Following our previous Horizons release, this month dHEDGE is announcing our Aurora product release which is comprised of:
Uniswap V3 integration on Optimism and Polygon
New Partnership with Banxa, allowing for easy access to crypto with cash
New Toros Leveraged Tokens
New Assets on Polygon and Optimism
dHEDGE dApp upgraded features
---
New Integration with Uniswap V3
Uniswap is one of the leading decentralized cryptocurrency exchanges. Initially launched in 2018, they have continued to innovate in DeFi. Version 3 is the most advanced and innovative which was initially launched on Ethereum and is now available on multiple chains including Polygon and Optimism.

dHEDGE Uniswap V3 integration will allow for a number of improvements and advantages:
Increased capital efficiency: Liquidity providers can utilize concentrated liquidity.
Managers can create trades that work like limit orders by providing one-sided liquidity.
Liquidity can be provided for higher yields on stable-coin pairings.
Complex strategies can be built with Uni V3 LPs to enhance derivative products.
Open up more assets for managers to trade with.
This also creates more use cases for DAOs to utilize the power of dHEDGE:
Easily manage DAO protocol owned liquidity, switching to the most traded LP pool to generate maximum fees.
Innovative way to manage DAO treasury.
---
Buy Crypto directly with Cash
Onboarding funds to dHEDGE will become a lot simpler via our new integration with Banxa.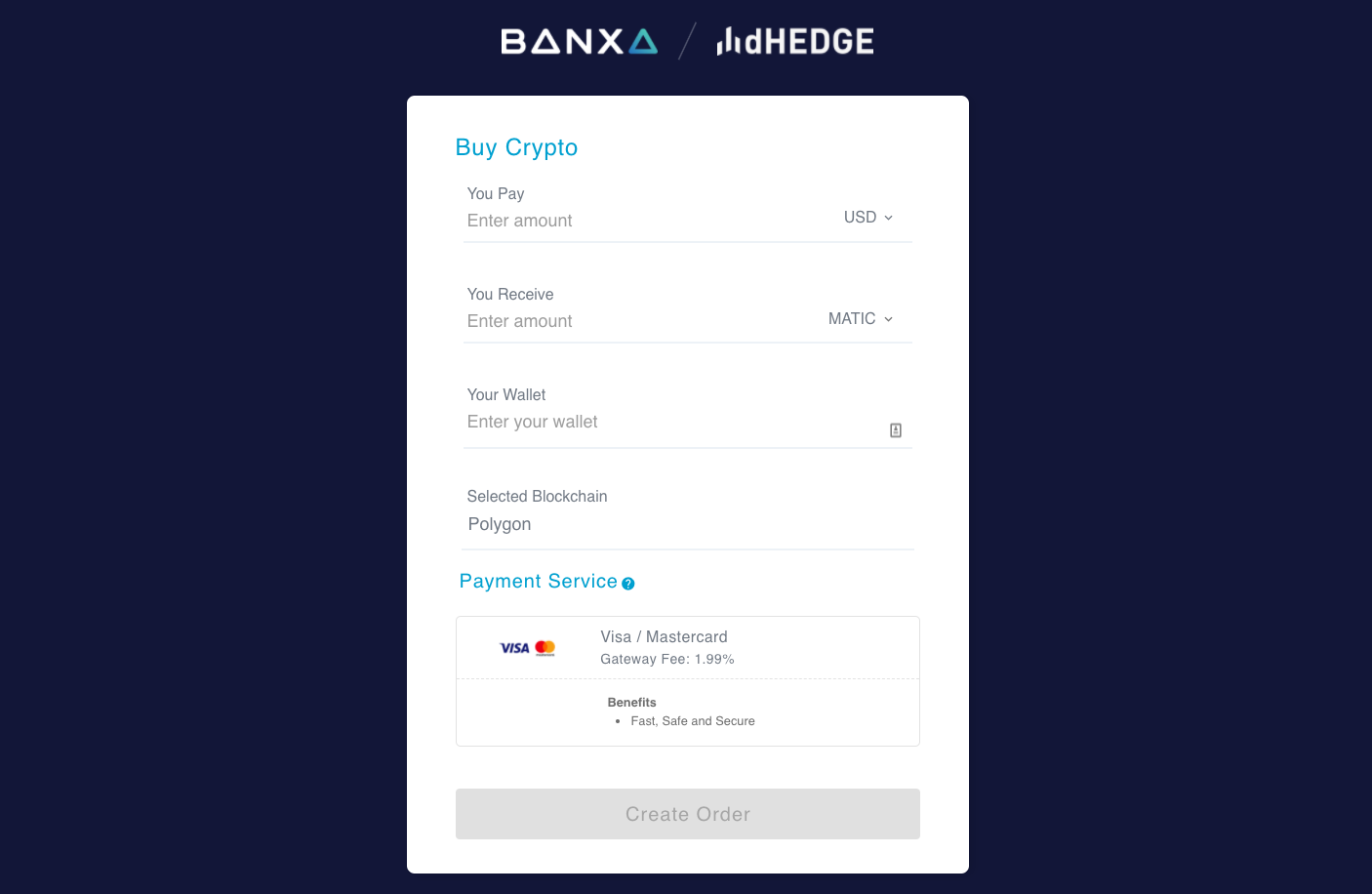 Banxa is a fully compliant fiat on/off ramp that is simple, swift and secure.
This integration will give users easy access into crypto via dHEDGE.
Steps:
A 'Fund Wallet' button will direct a user to the Banxa site.
Complete the transaction on the Banxa site. Users can choose from a variety of the most popular payment options.
Given the nature of fiat payments, first time users are required to complete a quick KYC process.
After completion a user will be redirected back to the dHEDGE dApp with new funds available in their wallet.
---
New Toros Leveraged Tokens
Toros Finance is the first incubated protocol from the dHEDGE ecosystem, which includes a suite of on-chain tokenized derivative products.
The 2 new leveraged short tokens will be:
BTCBEAR and ETHBEAR: at target leverage ratio of 1
This is in addition to the 4 current tokens:
ETHBULL and BTCBULL: at target leverage ratio of 3, and
ETHBEAR and BTCBEAR: at target leverage ratio of 2
These tokens are available directly on Toros.finance while also available as an additional tool for dHEDGE Managers.
Toros leveraged tokens allow users to obtain on-chain leveraged exposure for tokens that automatically manages and monitors leveraged loans.
---
New Assets Whitelisted on Polygon and Optimism
Polygon
Optimism
DODO (DODO)
USDC
RAI Reflex Index (RAI)
Tether (USDT)
Kyper Network Crystal V2 (KNC)
DAI
Graph Token (GRT)
Wrapped Ether (WETH)
Maker (MKR)
Wrapped Bitcoin (WBTC)
MAI (miMATIC)
Chainlink (LINK)
Sushi LP: MKR-DAI
Synthetix (SNX)
Sushi LP: MKR-WETH
Uniswap (UNI)
Sushi LP: GRT-WETH
Synthetic SOL (sSOL)
Sushi LP: WMatic-USDC
Synthetic AVAX (sAVAX)
Sushi LP: USDC-miMATIC
Synthetic Matic (sMATIC)
Balancer LP: WBTC-renBTC
Synthetic Euro (sEUR)
Balancer LP: USDC-DAI-miMATIC-USDT
A complete list of assets available on each chain can be found here: https://docs.dhedge.org/dhedge-protocol/supported-assets
---
dHEDGE dApp New Features
We have redesigned the Discover page giving users more flexibility to filter and search for specific pool criteria. This includes: Most Value Managed, Top Ranked and Top Performing along with a filter for Total Pool Value(min and max).


dHEDGE Managers can now view the full suite of options available to them before creating a new pool.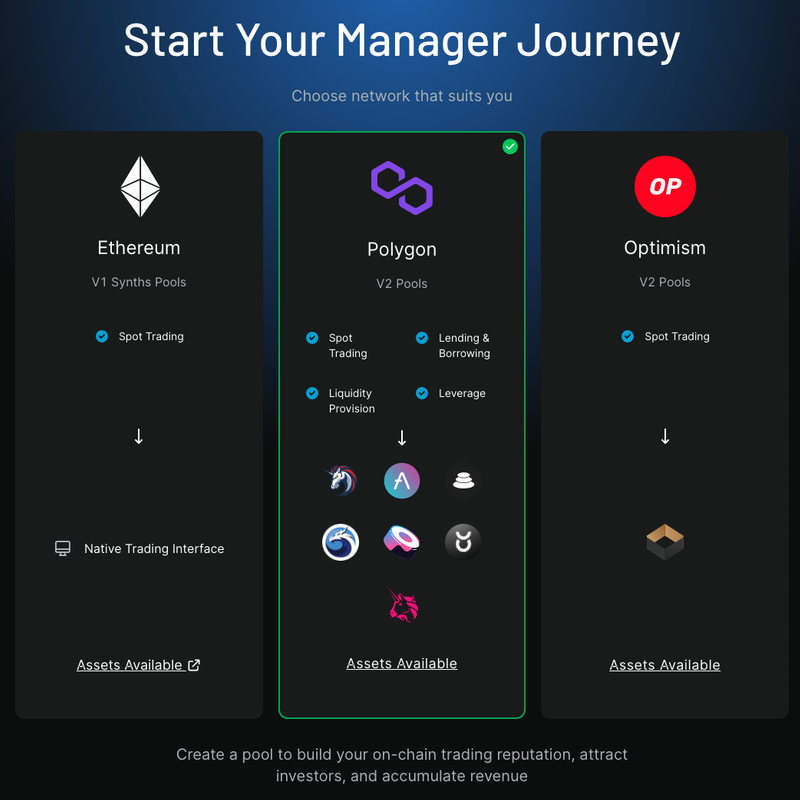 dHEDGE allows delegation of pool trading activity to a different account, with limited permissions. These are called 'Trader permissions'. In the case you have been marked as a Trader for a pool, these pools are now conveniently shown in one place - within the Management page under the heading "Manage Trader Pools".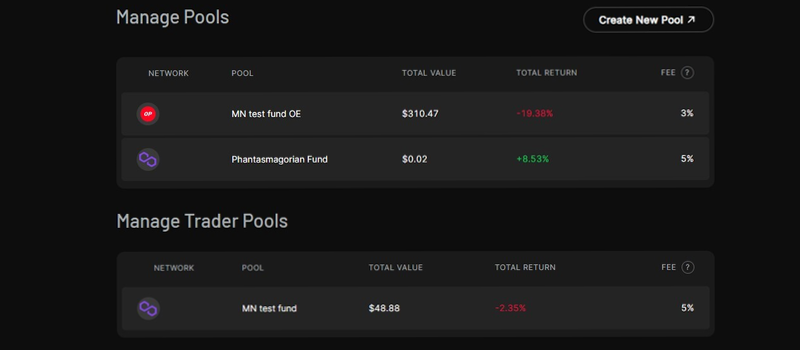 We're helping to explain how a Pool works within the dApp for new users. A new subtle popup is now presented at each dHEDGE pool page, presenting a user with the option to walk through a Pool tutorial. Great for sharing how dHEDGE works to newer investors.

In the "Activity" tab of each Pool we have included more information to increase transparency between Managers and Investors. Adding/removing liquidity and AAVE deposit/borrow will now be visible.
To improve the communication between Managers and Investors, we've updated the "My Investments" page to include Manager comments for all pools you're invested in. This helps to ensure you're receiving messages from your manager. Good way to give a manager feedback or ask questions of their strategy.
In the Pool detail page we've included a new feature to review the history of the Pool Assets Under Management (AUM). This shows how the value of total assets has changed over time, also reporting on pool deposits or withdrawals. See "Value Managed" tab next to "Performance".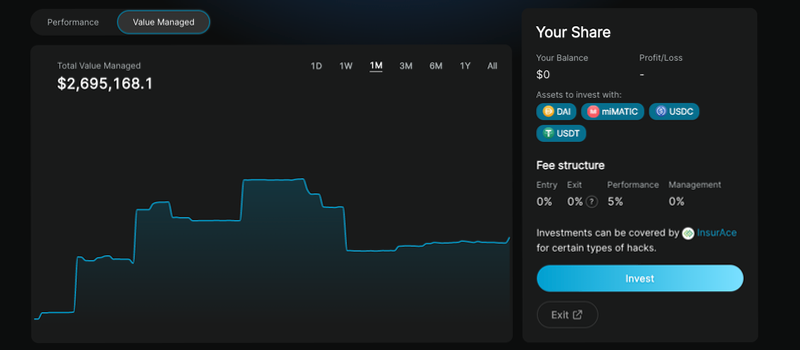 We've also improved visibility of how the Pool has been traded over time by including traffic light tooltips on the pool performance history (See screenshot below)
These traffic lights have mouseover menus so you can easily see positions traded at different points in time, and the red/green indication showing how that trade affected the immediate performance of the Pool.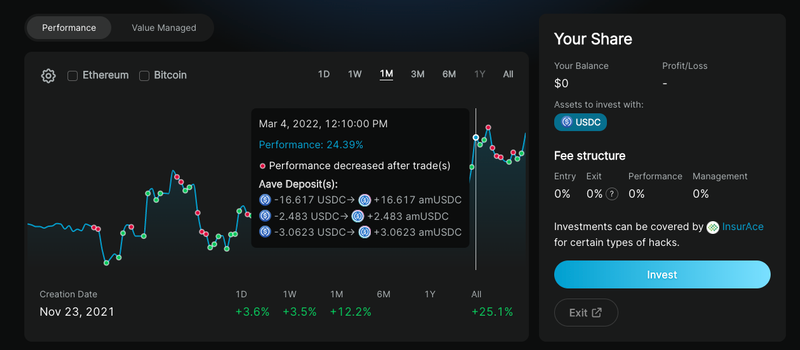 Do you like these new features? What else would you like to see? Let us know in Discord.
We are busy planning more new integrations and upgrades, can't wait for you to see what else is in store!
More About Aurora
The "Aurora" release continues the dHEDGE convention of naming product releases after universal phenomena visible from Earth.
More About dHEDGE
dHEDGE is a decentralized asset management protocol connecting the world's best investment managers with investors on the blockchain in a permission less, non-custodial, trustless fashion. dHEDGE aims to democratize the investing experience leveraging Blockchain technology.
Supported by some of the biggest names in crypto, including Framework Ventures, Three Arrows Capital, BlockTower Capital, DACM, Maple Leaf Capital, Cluster Capital, Lemniscap, LD Capital, IOSG Ventures, NGC Ventures, Bitscale Capital, Divergence Ventures, Genblock Capital, Trusted Volumes, Altonomy, Continue Capital, The LAO, bitfwd (比特未来) and Loi Luu, Co-Founder and CEO of Kyber Network,
Join the dHEDGE community on Discord, Twitter, Telegram English language, Telegram Chinese language and on WeChat.