Unleashing the Potential of dHEDGE and Toros Finance: A 2022 Recap and Beyond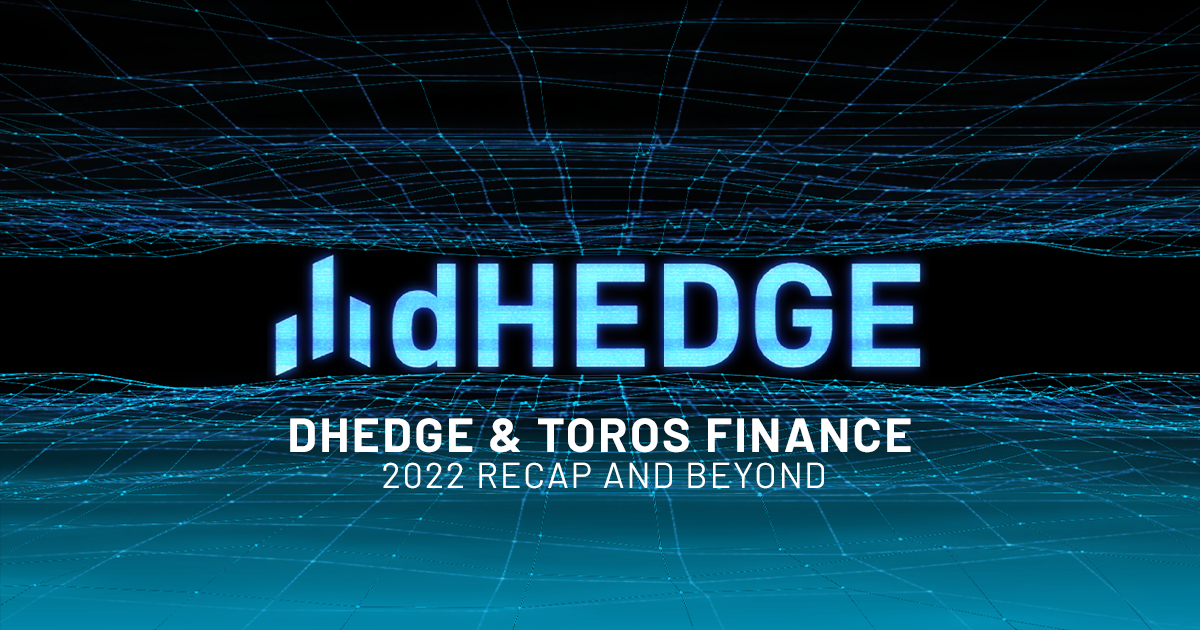 While many have felt the pain of crypto markets in 2022, dHEDGE is in a strong position to ride through the bear market and beyond.
The protocol growth has outperformed the overall market in many ways.
Let's take a moment to look back at the highlights of this year.
Optimism Growth
2022 was a big year of organic growth for dHEDGE on Optimism which led to dHEDGE being awarded a $300k OP grant from Optimism.
Optimism integrations with Kwenta futures, Lyra options, Velodrome LPing opened up new strategy opportunities for managers on Optimism. These integrations also expanded the vault possibilities from Toros Finance.
2023 will see dHEDGE start to deploy the $OP as per its commitment to Optimism.
Watch this space.
Synthetix Debt Hedging
Toros uses the audited dHEDGE contracts to build hedging services for protocols like Synthetix.
The Toros Synthetix Debt Hedging service has provided Synthetix stakers with a simple hedging solution to avoid debt exposure surprises on unstaking.
This launch was welcomed by the Synthetix community and strengthens the ties between Synthetix and the dHEDGE protocol.
Partnerships
dHEDGE has a growing list of integration and external partners. The goal is to partner with long term players that will outlast the crypto volatility and build good products. Some examples from this year include:
Synthetix debt hedging on Optimism
Lyra option vaults
Velodrome LPing
Kwenta Futures integration
Delta Neutral vaults with Velodrome and Stader's MaticX
Toros will continue to provide solutions and build products for long term DAOs, including:
Hedging solutions (eg Synthetix debt hedge, futures/perps protocols)
Yield products
Liquidity solutions
DAO treasury management
Product Releases
Integrations and launches:
Numerous new protocol integrations on dHEDGE: Uniswap V3, Lyra, Arrakis, 1inch, Velodrome
Toros launch on Optimism
Kwenta futures on dHEDGE
New Toros vaults
Countless dApp upgrades
Toros finance released a number of new vaults over 2022:
BTC Yield Vault
ETH Managed Liquidity Vault
USD Market Neutral Yield
Ethereum Long Vol
Ethereum Yield
Ethereum Covered Call
Matic Bull/Bear leveraged tokens
Hats off to the development team who were constantly improving the UI/UX of both dHEDGE and Toros.
It really is amazing the difference over the full year:
Discover Page redesign
Advanced vault search and filtering
Tutorials to help guide new users
Manager activity and action tracking
Vaults AUM history
In-app notifications
2023 and beyond
dHEDGE and Toros until now have been creating the building blocks for dynamic on-chain vault strategies that can be built and managed by anyone.
Going forward Toros will use the dHEDGE infrastructure to build new hedging vaults for protocols. This is especially timely with Synthetix V3 around the corner.
The protocol is now mature enough that it can be used to leverage a portfolio (eg. leveraged yield farming).
Also the vaults have been limited to single chains until now. Cross-chain vaults is something that dHEDGE is set to capitalize on.
See you in the new year hedgehogs and keep an eye out on an aggressive 2023 roadmap as we ramp up. 🦔
More About dHEDGE
dHEDGE is a decentralized asset management protocol connecting the world's best investment managers with investors on the blockchain in a permission less, non-custodial, trustless fashion. dHEDGE aims to democratize the investing experience leveraging Blockchain technology.
Supported by some of the biggest names in crypto, including Framework Ventures, , BlockTower Capital, DACM, Maple Leaf Capital, Cluster Capital, Lemniscap, LD Capital, IOSG Ventures, NGC Ventures, Bitscale Capital, Divergence Ventures, Genblock Capital, Trusted Volumes, Altonomy, Continue Capital, The LAO, bitfwd (比特未来) and Loi Luu, Co-Founder and CEO of Kyber Network,