The Moonlight release continues development to enable dHEDGE Manager access to the best DeFi integrations on L2 solutions Polygon and Optimism.
This release enables:
Integrating 1inch on Optimism, and
Integrating Aave V3 on both Optimism and Polygon
In addition to additional product developments aimed at improving the user experience for investors, such as the new Single Asset Withdrawal.
Launching 1inch on Optimism
1inch is one of the leading AMM's on Ethereum and integrating 1inch for Optimism managers opens up additional ways of finding the most capital efficient swaps.
Integrating 1inch to Optimism expands the current offering for managers on Optimism, who are currently managing using Uniswap v3 and Kwenta.

Integrating Aave V3
Recently Aave launched their new V3 service and Moonlight enables access to V3 for dHEDGE Managers.

Opening up benefits such as higher manager borrowing power, increased capital efficiency and reduced gas costs.
Being able to generate returns through lending & borrowing on Aave is a strong feature for many managers and integrating the new improved Aave V3 with dHEDGE is important to ensure managers can access the features they expect.



NFT Whitelisting for Private Pools

dHEDGE  offers the capacity to create private investment pools, where a manager can whitelist specific addresses with eligibility to invest in a private pool.
We've expanded this feature to now enable managers to set a specific NFT as a gateway to participate in a managed pool.
Using an NFT as an investor eligibility device simplifies a whitelisting process, and could also enable managers with a new avenue for generating an entry fee for access to a new fund.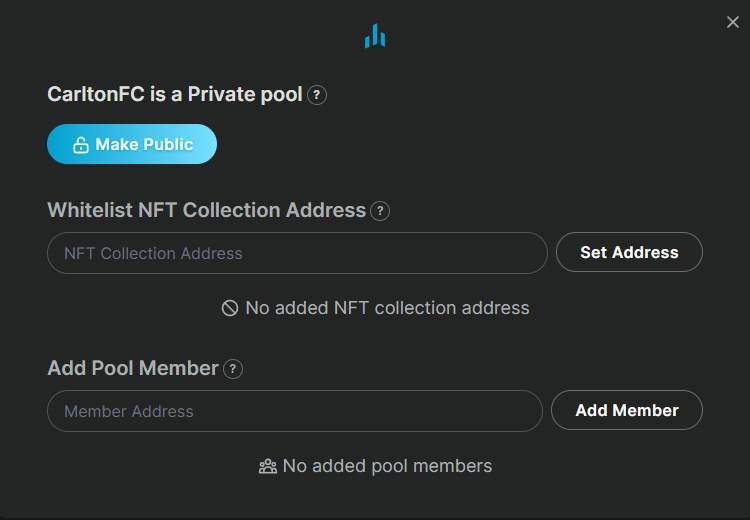 Single Asset Withdrawal
We've also added the convenience of being able to withdraw a pool position entirely in a single asset.
Previously, any pool exit would be delivered to the investor in the ratio of portfolio assets at the time of withdrawal. Including LP tokens if the manager had any LP positions at the time, and it was up to the investor to unwind these at their discretion.
With the new Single Asset Withdrawal, an investor can select a specific asset they'd like to receive their unwrapped pool position in, and dHEDGE does the rest.
In this pool below, an investor looking to withdraw the full 0.584009 pool tokens (100% of their holding) is being presented with withdraw token options of either USDCm USDT, WETH. Even though this pool was holding a range of other tokens and Sushi LP positions.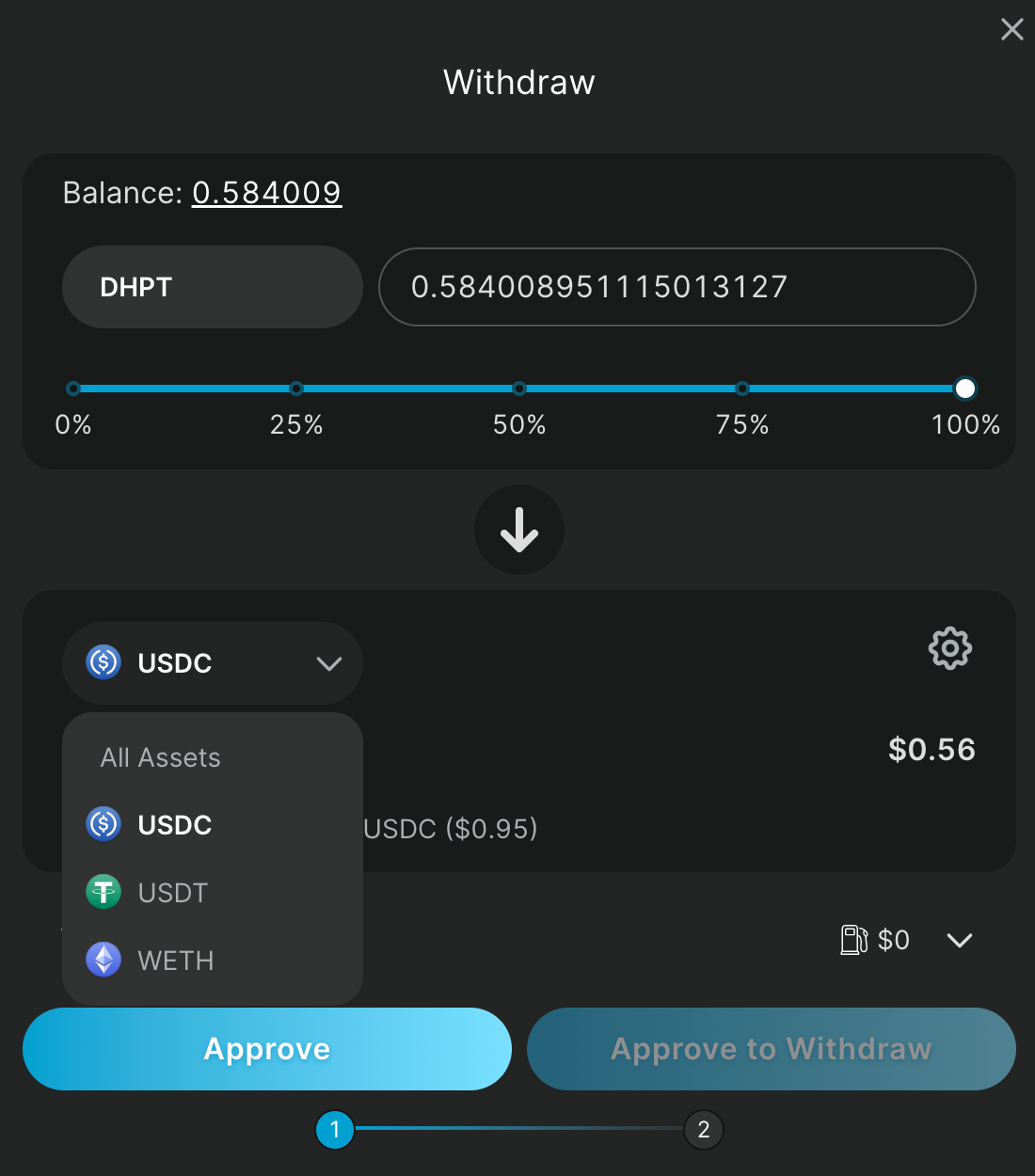 Management Fees
Typically, in the traditional finance space, a hedge fund manager could charge their investors with two fees:
a performance fee (typically around 20%) which is applied to any performance above the level which an investor added to the fund, and

an ongoing flat fee (typically 2%) which is applied to an investor's position regardless of fund performance.
This flat fee, a 'management fee', is now enabled in dHEDGE as part of the Moonlight release.

New Assets

Polygon
XSGD, QI
ETHBEAR & BTCBEAR - 1x bear tokens from Toros Finance now enabled on dHEDGE
Optimism
sAAVE, sUNI
---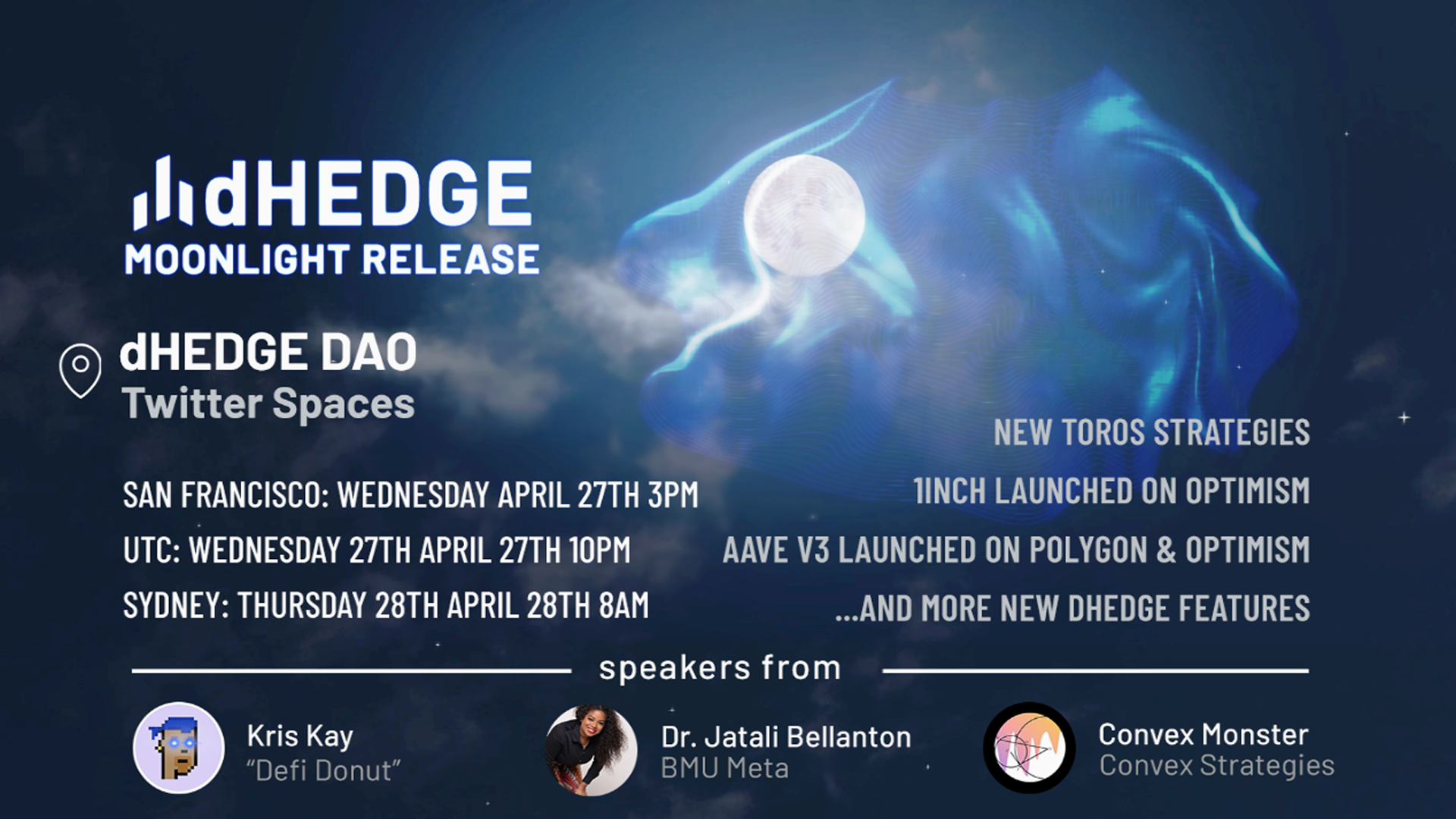 Next Community Call
We'll be live on Twitter Spaces later this week to discuss these newly released features and also hear from DeFi Donut and Dr Jatali Bellanton on their experience building investor communities using NFTs as a membership device.
We'll also be talking to Convex Monster about his current market outlook and how it's guiding his investment strategy.
More details for the the call in this tweet thread:
About Moonlight
The Moonlight release follows the dHEDGE convention of naming product releases after universal phenomena visible from Earth. Previously "Horizons" and "Aurora".
More About dHEDGE
dHEDGE is a decentralized asset management protocol connecting the world's best investment managers with investors on the blockchain in a permission less, non-custodial, trustless fashion. dHEDGE aims to democratize the investing experience leveraging Blockchain technology.
Supported by some of the biggest names in crypto, including Framework Ventures, Three Arrows Capital, BlockTower Capital, DACM, Maple Leaf Capital, Cluster Capital, Lemniscap, LD Capital, IOSG Ventures, NGC Ventures, Bitscale Capital, Divergence Ventures, Genblock Capital, Trusted Volumes, Altonomy, Continue Capital, The LAO, bitfwd (比特未来) and Loi Luu, Co-Founder and CEO of Kyber Network,
Join the dHEDGE community on Discord, Twitter, Telegram English language, Telegram Chinese language and on WeChat.