dHEDGE Blue Volcano Release
Blue Volcano features a powerful new integration with Optimism native protocol Lyra Finance, in addition to a new Toros Dynamic Vault built with the new Lyra integration.
Blue Volcano features a powerful new integration with Optimism native protocol Lyra Finance, in addition to a new Toros Dynamic Vault built with the new Lyra integration.
In addition, dHEDGE is also integrating Velodrome Finance, another Optimism native protocol.
Lyra Finance
The opportunities this new Lyra integration brings to the dHEDGE platform cannot be overstated.
This integration enables dHEDGE managers with the ability to create and manage their own complex options positions across both the ETH and BTC Lyra options markets.
Integrating Lyra Options to decentralised asset management opens up significant opportunities, including for example the ability for users to create their own dynamic vaults:
Listen to the launch call with core contributors from the Lyra team, Henrik from dHEDGE and Kain from Synthetix as they explore the opportunities presented by this new integration:

Toros ETHv

Under Blue Volcano, Toros Finance will add to its suite of automated strategies by including a new strategy built with Lyra.
Based on a poll undertaken back in July:
the most popular strategy requested was a Delta Neutral Long Volatility, which Toros will be launching based on ETH volatility.
For more about this strategy, check out the launch post:
---
Velodrome
Velodrome Finance has quickly grown to be one of the leading decentralised exchanges on Optimism, with (at today's count) $56m of TVL, ranking highest on Optimism behind Aave, Synthetix and Uniswap.

dHEDGE recently hosted Alex, Jack and Tao from Velodrome on our last community call, check it out to learn more about using Velodrome on dHEDGE.

Initially dHEDGE managers will be able to LP and earn fees using Velodrome. Swapping on Optimism is currently enabled via 1inch, Uniswap and Kwenta.
At Blue Volcano launch, the Toros strategy Stablecoin Yield has moved its liquidity into the Velodrome pools USDC:sUSD, and SUSD:DAI.
Stablecoin Yield on Optimism is now forecasting 10% APY.

---
Native Asset Invest
A long requested feature finally making it to production - the ability to deposit into any dHEDGE pool on Optimism or Polygon using the chain native asset, i.e. WETH on Optimism and WMATIC on Polygon.
A hugely convenient feature that skips a previous requirement for users to have deposit assets consistent with a portfolio set by the pool manager, which previously may not have included the native chain asset.
🚀
Deposit into a pool on Optimism using WETH even if the pool asset allocation does not currently include WETH
This feature potentially saves users some inconvenient swaps and also simplifies the onboarding for users bringing assets to Optimism or Polygon.
---
dHEDGE Light Mode
And finally, dHEDGE offers a new theme with a very sharp arctic light mode.
Check it out below, and for example on the Market Neutral Yield pool here: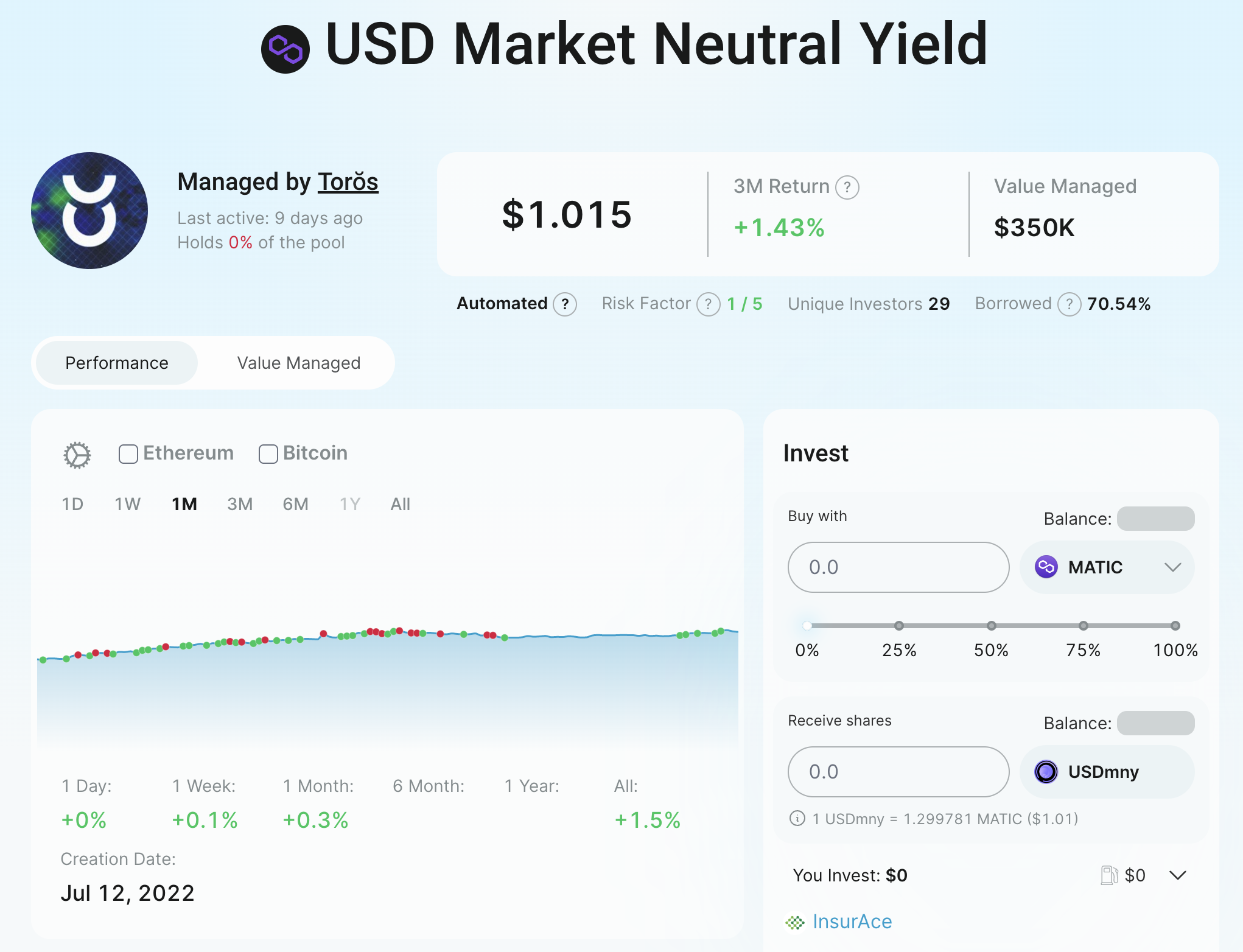 ---
More About dHEDGE
dHEDGE is a decentralized asset management protocol connecting the world's best investment managers with investors on the blockchain in a permission less, non-custodial, trustless fashion. dHEDGE aims to democratize the investing experience leveraging Blockchain technology.
Supported by some of the biggest names in crypto, including Framework Ventures, BlockTower Capital, DACM, Maple Leaf Capital, Cluster Capital, Lemniscap, LD Capital, IOSG Ventures, NGC Ventures, Bitscale Capital, Divergence Ventures, Genblock Capital, Trusted Volumes, Altonomy, Continue Capital, The LAO, bitfwd (比特未来) and Loi Luu, Co-Founder and CEO of Kyber Network,
Join the dHEDGE community on Discord, Twitter, Telegram English language, Telegram Chinese language and on WeChat.